CUSTOMER RELATIONSHIP AND QUALITY ASSURANCE
"In this industry, customer service and support, and getting the product out on time, are vital."

Fanos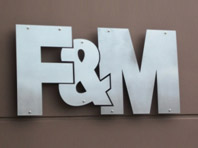 CONTACT DETAILS
39 Sandstone Place
Parkinson
Queensland - 4115

Phone: 07 3372 3005


Fax: 07 3372 2729


To send us an email please click HERE.
F & M Fabricators utilize the latest technology to reliably deliver flashing made from BlueScope steel for commercial and industrial building projects in South East Queensland. With our swift processes we offer the fastest turnaround time in the business without compromising strict quality assurance procedures and rigorous safety standards.

As Steel By BlueScope Steel program partners, we use and recommend BlueScope Steel. Its premium quality, suitability to Australian conditions and warranty defines it as the market leader and makes it the number one product specified by architects and builders. We have a comprehensive selection of Colorbond, Zincalume and Stainless Steel products in stock.

With our specialised commercial and industrial sheet metal fabrication background and delivery services available in South East Queensland and Northern New South Wales, we pride ourselves on being the best custom fabrication shop in Queensland.

We are available for consultation on projects to discuss your individual requirements to ensure a smooth progression through the various stages and also organising project specific orders of speciality materials if required.

Flashings Division:
Architectural Metal Roof Systems
Flashings up to 8000mm long and 3mm thick
Custom gutter profiles
Fabrication of Aluminium, Stainless Steel, Copper, Pre-finished Steel & Galvanized Steel for architectural applications
Specialty Fabrication for commercial and Industrial applications

Trade work Division:
Micro segment half round gutters and accessories
Custom rainwater heads, from colonial to modern types in all types of materials
In house laser cutting of any profile
Down pipes and offsets, light and heavy gauge, mild steel and stainless steels
Welding of Mild and Stainless steels and Aluminium
Ventilator systems including - Louver vent systems, rotary vent bases and ridge mounted vent systems
Window hoods
Powder coating and hot dip galvanising
We specialise in all custom sheet metal fabrication of Colorbond, Zincalume, Galvabond, Stainless Steel, Aluminium and Copper – all available in light and heavy gauges.